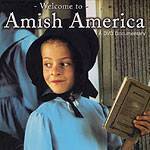 IN A TIME OF VIOLENCE in urban America it is remarkably peaceful in the middle of Amish America. The Amish are doubling in size every twenty years - and many outsiders are joining. You'll learn why as you view - and watch over again - this award winning documentary.
The Amish have been in our midst for many decades. Some might say that there has always been a mystery about them. That's not really true. John M. Zeilinski set out 35 years ago documenting the Amish in America in words, films, exhibits, books - and now with this video in DVD format.
Today the Amish are in 25 states, from Maryland to Montana, from Canada to Texas. This presentation is close and personal with "hitch rail" interviews.
WELCOME TO AMISH AMERICA is the first DVD Documentary of the Amish. It is the first movie to feature the Old Order Amish.
Seen on PBS - now in Dolby Surround Sound.
Order your copy now.