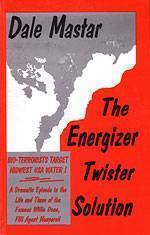 "The Energizer Twister Solution is a thriller...a masterpiece in motion."
Book Review by Darlene Handrock
As my friends know, I am an avid reader. I devour books by John Grisham, Tom Clancy, Robin Cook and other best-selling authors.
I felt privileged when Mastar asked me to read his soon-to-be-published novel. He asked for my opinion, whether or not I thought it was a page turner.
I was a bit skeptical at first as I started into the book. In the first 10 pages I had a good idea where the action took place. This might be interesting to people in south-central Iowa, particularly Clarke County, but what about everywhere else? We haven't had a best-selling novel about this area since The Bridges of Madison County. This might be interesting, I thought, but you really have to go some to top "Bridges". No hint of scandal like that yet in the first pages-but maybe later? I kept reading.
What could I say to the author if I didn't like it? I got to page 17 and then the incredible part began. Darn, how could I break it gently? However, I kept reading, based on the premise that fiction is always bigger than real life. The story line began to take on the aura of suspense of a Robin Cook medical sci-fi thriller, then moved to Clancy-style international intrigue. When I reached page 60 I began to really love this book. By the time I got to page 100 I couldn't put it down. The incredible was now becoming very credible! And it began to get very scary. Yes, I contemplated, the events portrayed could be possible, indeed. It hits home with what's in the news today in homeland security.

What do you like in fiction? Mystery? Surprises? A novel focused on modern events, local, national and worldwide-that could happen in your lifetime and in your neighborhood, world-shaking events? How about bio-terrorists in the Midwest? This novel has all that plus, what I really loved, some very subtle, smile-cracking humor. I was told by the author not to even think about reading the last page in advance. No sneaky-peeky. All right, I grumbled. It was well worth the wait. It just cracked me up. It left me feeling satisfied. Isn't that what you expect out of a novel that you invest your time in?
In between, it is fast moving and it carries your imagination off to new heights. You might start looking at the pooch at your feet in a whole new light- and begin to think that this author might be on to something. You may have suspected it, and now you have a reasonable response to why you think your four-footed friend you call a family member is so darn intelligent!
By the way it has no "Bridges" tenor, so if that's all you're looking for, it isn't for you. It's clean, it's fit for all ages. I warn you, though, it's a bit deep and thought provoking. Yet it's written Hemmingway style, short sentences, simple and to the point--so you don't have to reread a line to get the gist. You are carried along in flowing prose. And you just have to fall in love with the characters. I particularly like Rachel, former aid to the President-and now heading up the campaign of his opponent for the office. What an energetic "twist" on politics as usual that is!
The bottom line is I would call this book a masterpiece in motion. The Energizer Twister Solution is exciting, compelling, full of surprises-and it just keeps going and going and going. A very good read--it just begs for a sequel!

Please contact us to purchase yours, 641-455-9932!