Aaronburg #10


| | |
| --- | --- |
| Location: | 1739 Piper Road, Leechburg, PA 15656 (Allegheny Township) |
| | - 5 minutes from grocery stores, K-Mart, fast food |
| | - 20 minutes from Pittsburgh Mills Mall |
| | - 45 minutes from downtown Pittsburgh |
| Taxes: | $815/yr. |
| | Agricultural Security Area |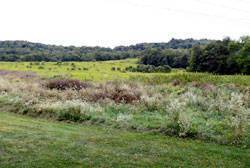 Click to View Larger Image
Large

50 ACRES FERTILE FARMLAND IN ALLEGHENY TOWNSHIP, WESTMORELAND COUNTY, PENNSYLVANIA
IS THIS THE FARM ACREAGE with a terrific view that you've been dreaming of to build your new country home on? Gently-rolling land located minutes from urban shopping, yet quiet country living on paved road. Partially timbered, with about 30 acres fertile soil tillable for row crops or for pasture and hay crops. Land meets federal standards for "Organic" qualification. Abundance of deer and wild turkeys, songbirds and other wildlife. Are you looking for the perfect acreage to raise livestock such as horses, purebred cattle, llamas, whatever? You must see this property that has a year-around spring-fed pond.
NOTE: Agricultural Conservation Easement potential: Commonwealth of Pennsylvania will pay difference between value as industrial and housing development property as opposed to maintaining land as pure agricultural property with exception of allowing single house and farm buildings constructed. SEE: Westmoreland County Agricultural Land Preservation web site for details. (Payment could approach or exceed $100,000)
Mineral rights negotiable. Presently has two producing natural gas wells giving income stream. Property owner holding mineral rights may enjoy free natural gas to heat residence.

$200,000 w/o mineral rights.
AARONBURG PUBLISHERS
PO BOX 95
OSCEOLA, IOWA, 50214
Email: Click Here